Swissgarde's herbal nutritional treatment for infertility and low sperm count - Uyo
Friday, 20 November 2015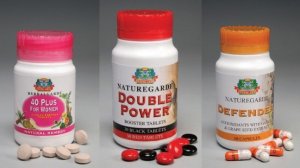 Contacts

Mr Abia

08023467737
Item description
There is an increasing number of infertility cases. And these are largely due to a variety of reasons like nutrient deficiency, stress, presence of toxins and free radicals, infections, hormonal imbalance, etc.
Swissgarde's nutritional and herbal supplements, Defender (N5500) + Double Power (N5885)+ 40 plus for men(N3855) / women (N3855), address quite a number of these causes of infertility in both men and women and we have had a number of impressive results and wonderful feedback from our customers.
The Products:
40 plus for men contains Vitamin E, Lecithin, Zinc, pumpkin seed oil, saw palmetto etc. which balance hormones in men and maintain a healthy prostrate for the production of healthy sperm . 40 plus for women contain Vitamin E & C, Citrus Bioflavanoids, Dong Quai, St John Wort, Soya Bean Oil, Isoflavones which addresses hormone imbalance in women.
Double power contains B vitamins, Soy protein, Amino acids , Guarana powder and Spirulina algae. Double power boosts sperm quality and also fertility in women.
Defender is a natural antioxidant and natural antibiotic which contains, Selenium, Beta carotene, Grapeseed extract and Parsley leafpowder. Defender helps to treat infections and get rid of toxins and free radicals that kill cells and interfere with the fertilization process.
The combination of these 3 supplements have helped a lot of our customers overcome the challenge low sperm count and infertility.
Our products are produced under the strictest standards of quality and hygiene. There are no dangerous side effects with Swissgarde products. All products are made from natural food and herbal extracts. Swissgarde is seriously committed to quality healthcare, offering products that deliver on their promise.
If you are tired of throwing money away on herbal products that don't work then invest in Swissgarde products and get good value for your money.